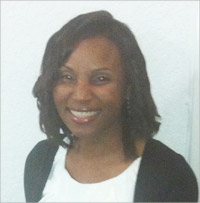 Minister Sophia Rose-Lyn is the youth Pastor for Deerfield Beach Ministries Youth Ministry. Sis Lyn is young, dynamic and speaks the language of today's teenagers and young adults.  

Min. Sophia Rose-Lyn accepted Christ as her personal Savior at the age of fifteen and was ordained a licensed minister in the year Two Thousand. A graduate of Adelphi University with a Bachelor's degree in Sociology. Currently, pursuing her Masters in Counseling Psychology. She has enjoyed working for diverse community focused organizations.

Min. Sophia is a transplant of New York where she served  in the church of God of Prophecy at Jerusalem Ave., Hempstead, as Youth Director, Sunday School Teacher, Praise and Worship team member, District # 2 Evangelism outreach team to Bermuda. She later transitioned to the Love Fellowship Ministries, Opalocka, where she served as Youth Director and Youth Pastor. Sis Sophia is described as a dynamic speaker, often speaks at schools, Youth Retreats, Women's conference and Ladies Symposium.

In her walk she demonstrates a strong faith in the Almighty One to do all things, genuinely loves young people, down to earth, and energetic, possessing a real passion for ministry among young people, which she embodies in her day to day interaction with them. Min. Rose-Lyn now serves as Youth Pastor at the Deerfield Beach Ministries. Her favorite scripture is Proverbs 3:5-6 "Trust in the Lord with all your heart and lean not on your own understanding; in all your ways acknowledge him, and he will make your paths straight".